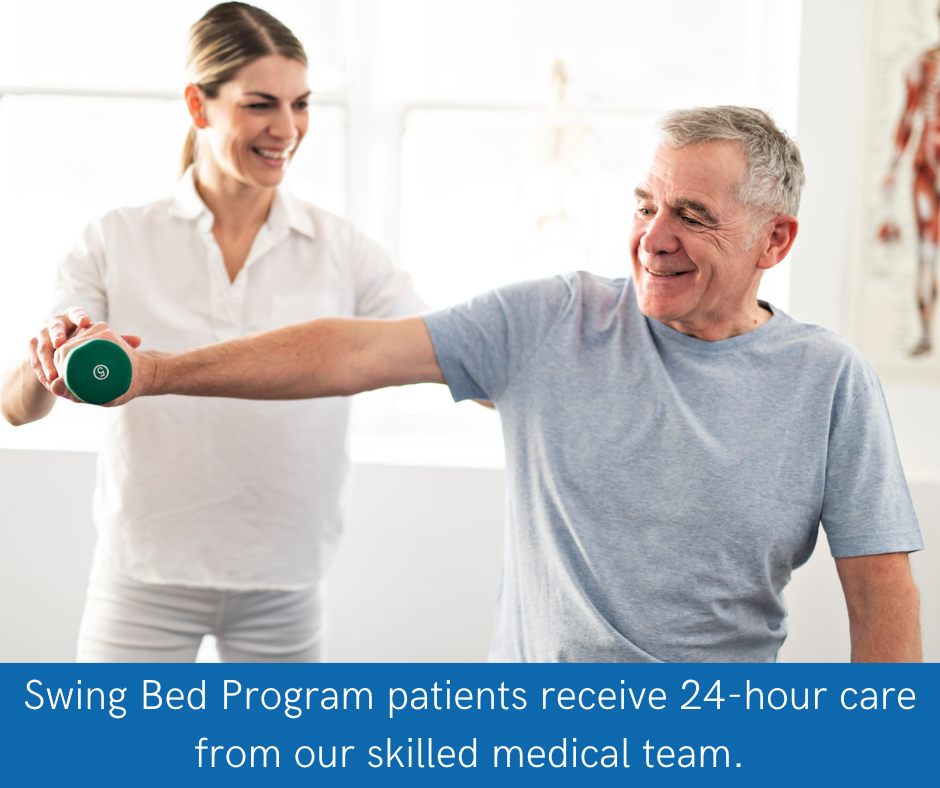 What is Short-Term "Swing Bed" Rehabilitation?
Doctors Memorial Hospital in Bonifay, Florida offers short-term rehab when a patient is recovering from surgery, illness or injury. Many patients find they need additional care after their hospital stay, but before they're ready to return home. Doctors Memorial Hospital's short-term rehabilitation in Bonifay, Florida helps patients regain strength, mobility and independence in the shortest time possible, close-to-home, in our Medical/Surgical unit.
Who Qualifies for Short-Term Rehabilitation?
Short-term rehab, sometimes referred to as Swing Bed, is covered by Medicare and Medicaid, as well as many private insurance plans. Medicare reimbursement requires a 3-day qualifying stay in any Critical Access Hospital (such as Doctors Memorial) or Acute Care Hospital prior to admission to short-term rehab, or Swing Bed. If you would like to know whether you or a loved one qualifies for this program, please contact our Short-Term Rehab Case Manager.
Other insurances may allow short-term rehab (or Swing Bed) status, but authorization must be assured prior to admission. A PRI & Screen must also be completed by the Case Manager to assure qualifiers are appropriate.
Doctors Memorial Hospital's Financial Counselors are happy to assist with questions about insurance coverage.
Who is Short-Term Rehabilitation for?
Short-term rehabilitation is ideal for patients needing:
Recovery from major surgery, joint replacement or vascular or abdominal operation
Rehabilitation after a stroke
IV medication therapy or nutritional therapy
Strength training after a lingering illness or prolonged hospitalization for acute medical care
Intensive physical therapy, occupational therapy and speech therapy
Pain management
Respiratory care
A Personalized Treatment Plan to Get Patients Home Sooner
Our compassionate medical providers, nurses, therapists, social workers and support personnel work with patients and their family or caregiver to develop an individualized treatment plan.
Treatment plans are developed with the patient's specific needs and discharge goals in mind. Our team works to get patients back home and to the level of activity they are used to.
To ensure that patients are safe and can care for themselves once they return to home, therapy typically includes occupational for self-care skills and functionality, physical for strengthening and mobility, and others to help each patient meet their personalized goals.
Preparing for Successful Discharge
During a patient's stay for short-term rehab, the multi-disciplinary care team will monitor a patient's improvement from day to day, developing new goals as the patient progresses toward discharge to home or another setting.
As the patient gets close to meeting their goals, the care team works with the family or caregiver to ensure a successful discharge.
What does a successful discharge look like? Families and caretakers are not alone. Prior to discharge, our Case Manager will assist with resources the patient or family or caregiver may need. Therapists will ensure that necessary accommodations have been made at home to keep the patient safe, and that the family or caregiver is comfortable using safe body mechanic techniques to assist their loved one and assisting the loved one with any adaptive devices or home exercises.
If needed, the care team can make referrals to home health or for rehabilitation services.
Family Is An Important Part of the Care Team
To be successful with short-term rehab, families or caregivers are encouraged to visit, as well as to attend care conferences and rehabilitation sessions, if possible. Family and friends can help encourage patients and keep their spirits high as they work toward their goals. Family, friends and caregivers are an important part of the care team.
We encourage our short-term rehab patients to "make themselves at home," wearing comfortable clothes each day and surrounding themselves with laptops or ipads, pillows and books, or other items that will make their single room more home-like. (We appreciate our family members helping with laundering and bringing things in from home that patients may have forgotten.) Each patient room is private and has its own shower.
Short Term Rehab "Swing Bed" Director – Donna Clark, RN, BSN
Phone: (850) 547-8132
Office Hours:
Nursing Staff and Emergency Care on Site 24/7